We are The Jetwash Guy
Specialising in Driveway, Patio & Decking Cleaning in St helens, Warrington,Liverpool. The Jetwash Guy can clean all your hard surface areas from driveways, patios, paths, terraces, fencing & decking.
We are not a jack of all trades, master of none, we don't lay driveways, erect fencing, build conservatories or fix your roof. Our specialty is the cleaning/restoration of outdoor areas. We can level a few sunken driveway blocks, re-point some broken mortar, and even replace broken deck boards.
Equipment
At The Jetwash Guy we only use equipment that is up to the demanding job of the cleaning tasks we do. By using the best equipment available, we can ensure the high standards we thrive for. A DIY shop bought pressure washer won't produce the results that our industrial petrol powered washer can give.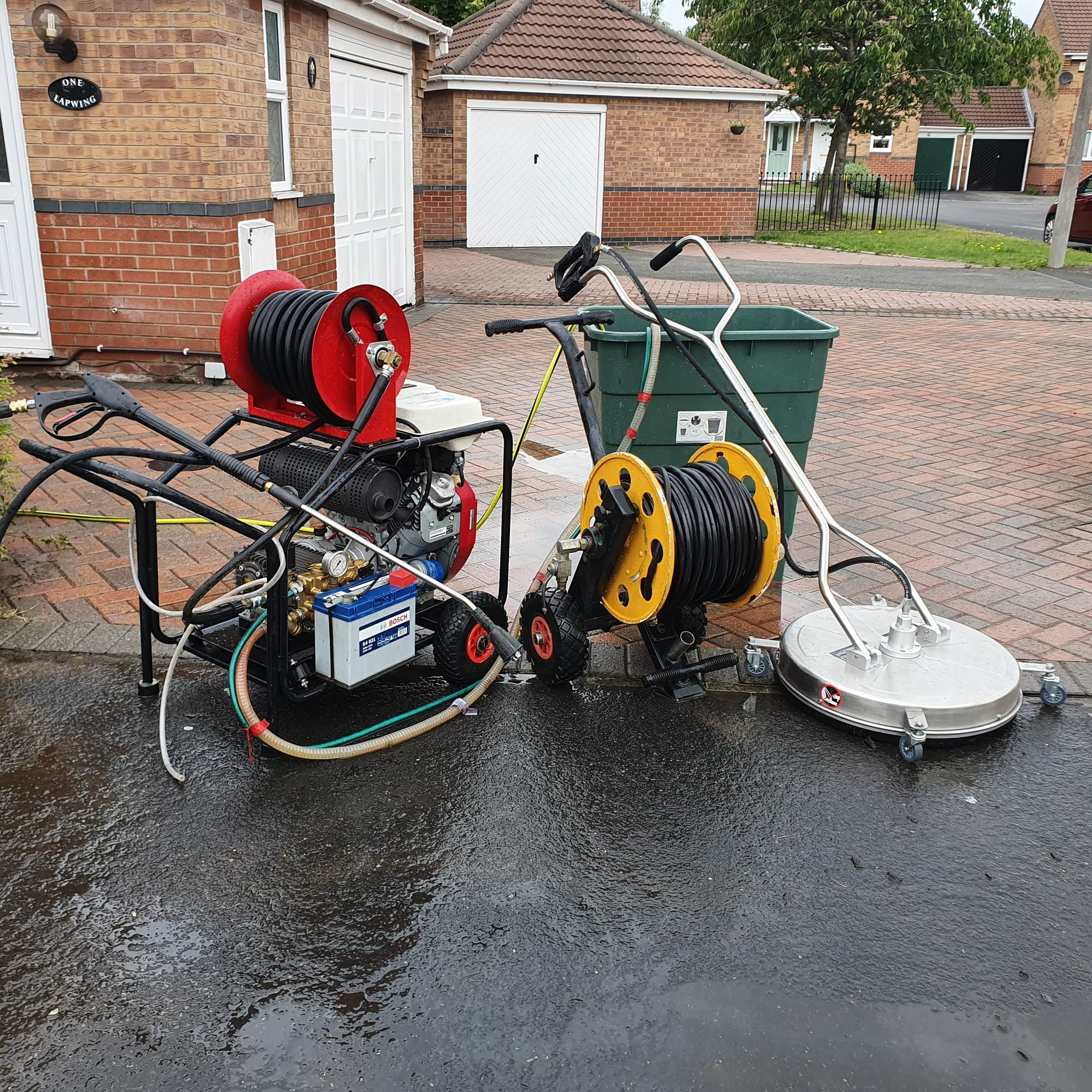 Our Honda GX 620 V-TWIN
This is the washer we currently use. It's a Honda GX 620 , with an 20hp V-Twin engine. Outputting 200 bar (3000psi) and 30 litres of water per minute. We can adjust the pressure to suit different cleaning tasks. For example, block paving would need the full 200 bar, whereas decking would need around 120-150bar.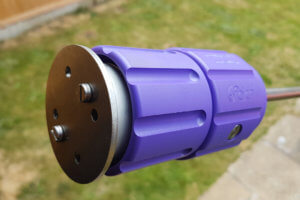 Falch rotating nozzle
We endeavor to use the very best equipment and to be at the cutting edge of modern cleaning methods. Having invested in the very best rotating nozzle, the Falch Pointspeed Regulation 5. This cleans up block paving like no other nozzle on the market. We are one of a few small companies in the UK that have one.


The Jetwash Guy can carry out almost all exterior cleaning tasks, if it's dirty we can probably clean it.


Driveways & Patios – (we can seal too if needed)
Price depends on what sealer we use.
Decking
Fencing
Finding the time to stain your fence is never easy. Like our decking service, we offer a full clean and treat service. We will lightly pressure clean your fence, removing as much algae as possible before staining it in your choice of colour. Please see our fencing page for more info on this service.
Brickwork, Walls, Railings
Brickwork can suffer the elements too. We clean walls and railings/gates etc. Using harsh chemicals is something we try to avoid, we will clean using just water. If we feel that some chemical action would benefit the result, then this will be advised. Unfortunately, we are only able to clean to a height that we can safely reach from the ground.
Pressure cleaning is a great way to remove old flaking paint before being re-finished.
Cost
At The Jetwash Guy we offer a complete quotation, we won't alter our prices once the work is complete. You tell us what work you want us to do and we will personalise the quote upon your requirements. All block paved areas are quoted inclusive of re-sanding
Have a look at some of our photos in the gallery page. We also have some videos on our gallary or check out , or click the button on the side of the page. Do you have a driveway, patio or some decking in need of some TLC? Then give The Jetwash Guy a call for a friendly and free NO HASSLE, NO OBLIGATION quote. Getting your drive cleaned is not as expensive as you may think, our prices start from only £75.
Cleaning Price Guide
Our cleaning price guide covers all types of surface. We can clean any exterior hard surface. We can also clean fencing, small walls and brickwork, garden ornaments and some types of patio furniture.
Every quote undertaken is bespoke, every customer's needs and requirements are different. Each driveway and patio is of different size to the last, that is why we offer a free no hassle quotation service.
We come round, assess the area's, measure up and finally give a quote. The price quoted at the time is the price you pay, we don't add little bits on at the end. We are not shy about our cleaning prices, many companies won't show their rates.
Our Cleaning prices vary from £2 per Square Meter
( depending on each job )
You'll find our prices are very competitive, we have no overheads, no phone staff to pay, no expensive fleet of vans to upkeep and therefore we can keep our prices low.
Our price guide works roughly to the following scale. These are prices to clean per square meter (sqM) We also DO NOT have a minimum size, if your area is only 20sqM that's fine, it will fall into the first price bracket.
This cleaning price guide covers general pressure cleaning of driveways, patios & decking. The price of decking oil and sealers fluctuate so they will be priced upon enquiry.
The following prices are a rough guide, every driveway is different. For example crazy pave can be more time consuming as loose mortar makes the job harder. If your mortar is bad then soft washing may be a better option. Your location also has to get factored in, as we're based in St Helens Mersyside. We offer a standard clean, which is a straight pressure wash.
WE ALSO OFFER A DEEP CLEAN WHICH INVOLVES THE USE OF A DIRT LIFTING BIOCIDE CHEMICAL. NOT ALL AREAS REQUIRE DEEP CLEANING, HOWEVER CRAZY PAVE AND CONCRETE TEND TO BENEFIT THE MOST AS THEY CAN HOLD ONTO DIRT AND ALGAE.
We can cover all the St Helens areas but if we need to travel out for 25 mlies then we have to factor that into the price. The prices below are based upon a driveway/patio with sound jointing.
Standard Clean Pricing + sanding if applicable
Min Charge £75.00
Our prices vary from £2 – £3.50 per Square Meter
( depending on each job )
Please Note:- MAX cleaning size is 180 – 300 sqM per day (dependant upon the surface). If the area is large and we think it's cleanable within a day, we may be able to price it on a day clean rate to keep the price as low as possible.
Deep Clean Pricing
A deep clean consists of applying a dirt releasing chemical that can really lift the overall clean. Since this is not always required we have priced it separately.
An algae removal/deep clean costs £0.70sqM + £10.00 apply/rinse which includes all materials. This is in addition to the standard clean price above. A deep clean won't remove rust stains, this requires additional chemicals if required.
Please note however, this deep clean WILL NOT remove lichen (black spot) spores. Lichen removal is more time consuming and takes a lot more chemical. Prices for lichen removal depend on the surface and are priced according to the job. Please email or get in touch for a lichen removal quote.
We charge 50p per sqM labour for sanding (not inc sand) sand is roughly £6.00 per bag and it will cover approx 20-25sqM per bag, depending upon stone type.
We have had to introduce a minimum charge of £25.00+sand to re-sand a driveway in order to cover time and costs.
Pricing Examples
The cleaning price for a standard concrete or crazy paved single car driveway (with good mortar joints) of approx 5m x 4.5m would be 22.5 metres squared. Every job is quoted individually, depending upon the type of stone, initial clearing (leaves, pots etc)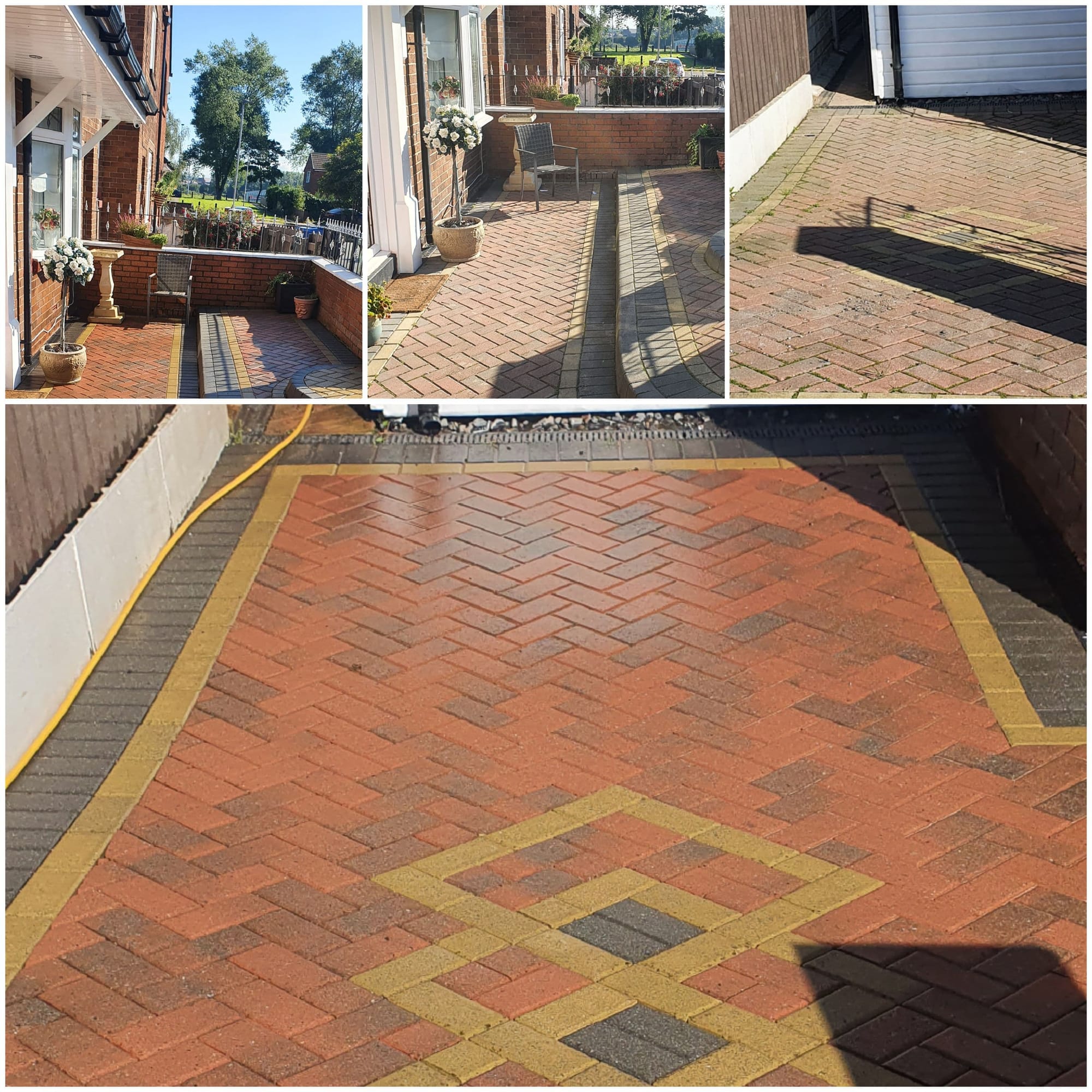 Freshly Cleaned Drive
A single/single and a half size driveway (pictured above) would cost approx £75.00 If you have block paving, that price would go up to approx £95.00 as it would require re-sanding.
If you're lucky enough to have a large drive or yard that needs cleaning, we can work out a job price/day rate for you.
The bigger the area the cheaper it gets. If you want your driveway and patio cleaned at the same time we will combine the areas to reduce the price. This also goes the same if you have a combined driveway with a neighbour and they want their's done too.
PLEASE BEAR IN MIND THAT THESE ARE "CLEAN ONLY" PRICES. BLOCK PAVING REQUIRES RESANDING AFTERWARDS WHICH COSTS MORE BECAUSE OF THE SAND AND TIME.
The only extra we may have to charge for is drain gully clearing. We need free flowing drainage to clean quickly and efficiently. The biggest cause of problems is drainage, which more often than not starts with the drain gully. We will always ensure that these gullys are clear when the cleaning is complete. If we have to spend 30mins clearing out drains before commencement then we will have to factor in a clearing charge.
If you can't clear them yourselves prior to the cleaning we can include this in the service. Prices for this are usually around £15.00 for a full vacuum clean.
We are licensed to carry waste, all weeds and sand will be scrapped up and removed. Not left for you to dispose of.
Our latest investment, we are one of only a few companies with this amazing tool at our disposal. The Falch PointSpeed 5 is an incredible tool that gives amazing results.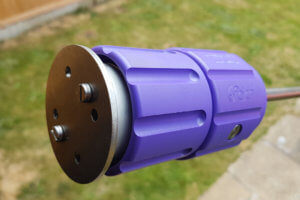 Falch Rotating Nozzle
If your driveway has weeds or heavy moss then this rotating nozzle is the best tool for the job. It cuts through dirt, moss and weeds with ease. Check out our videos page for a video of this beast in action.
We like our customers to leave us reviews on Facebook, so have a look at our page.
WE ARE FULLY INSURED
JOHN THE JETTER IS ALWAYS AVAILABLE FOR ADVICE AND INFO
ASK FOR DETAILS
FACEBOOK THE JETWASH GUY
NEW YEARLY MAINTENANCE PACKAGE COMING SOON